Online Collaboration
With ConnectElements.com...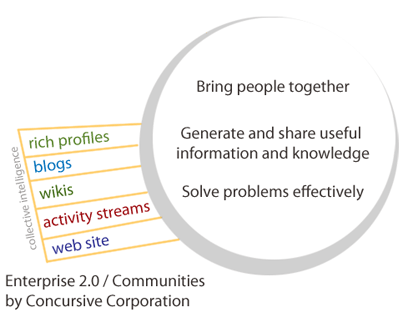 Pricing Information
We want you to be able to setup groups and projects as soon as you need them. Once you have a group and a project, you should be able to invite others to collaborate, in a flash. Since the participants may be coworkers, customers or even friends, they shouldn't have to pay to begin collaborating right away.
To setup your own projects and keep them running, please see our pricing.
Background & History
ConnectElements.com is brought to you by Concursive Corporation.
Concursive Corporation is a privately held media and software development company headquartered in Norfolk Virginia.
We are the developer of several products, including ConcourseSuite, a dedicated CRM solution, and ConcourseConnect, an integrated web-based software platform that brings together Corporate Social Networking, Online Community, Business Directory, and CRM capabilities.
Concursive products are used by large enterprises and thousands of small businesses alike and our thriving developer and user community has more than 18,000 registered community members.
Concursive Corporation is an Intel Capital Portfolio company.

Philosophy & Culture
Solving problems effectively with social business software, sums up our philosophy.
Sign in to add your comment.